Table of Contents
The process of data discovery
A fictive data discovery story with roots in reality

Jana Svoboda is an economist and works in a public research institute in the Czech Republic. She needs international comparative data on work orientations. How did she discover and access such data?

In preparation of her research project, Jana takes the following steps to find relevant data:

She reviews the literature on the topic
Jana begins with a review of scholarly literature and looks for data used by other researchers. She has read a number of studies on the topic before and now she reviews the 'research method' and 'data' sections in articles to learn about the data and the data resources. The authors mention several publicly available datasets, that may be used in Jana´s research. The study of the International Social Survey Programme (ISSP) on Work Orientations is among them. However, only a few datasets are properly cited and the persistent links (DOI) are missing for most of them. She must look elsewhere to find out details about the ISSP Work Orientations studies.
She looks for data at the survey programme website
Jana visits the ISSP website (ISSP, n.d.). There she finds general information about the Work Orientation surveys, methodology and participating countries. She downloads the international module questionnaire, i.e. the source questionnaire written in English whose translation was used in individual countries. This questionnaire contains all variables measured in all ISSP countries in 2015. Jana reads the questionnaire and finds out that it contains variables that she might use in her study. She follows the link to the ISSP data archive at GESIS (GESIS, n.d.a). The archive provides rich metadata from each ISSP survey and enables users to download data for scientific research and teaching purposes. The GESIS ZACAT data catalogue also offers its users the ability to do a very simple analysis right in the online environment. Jana browses the variables in individual Work Orientation studies in the online archive and finds important variables for testing her research hypothesis. Then she downloads datasets from several Work Orientation surveys that were conducted in many countries in 1989, 1997, 2005 and 2015.
She searches for data in social science data archives
Jana searches the GESIS data catalogue also for other data on work orientations. Besides the ISSP, there are over a hundred other studies. However, they are not comparative by nature or the topic of work orientations is not so central. Jana decides to visit the Czech Social Science Data Archive (CSDA, n.d.) to look for data that give her a more detailed view on work orientations in her country. She finds out that ISSP Work Orientation datasets which only contain data from the Czech Republic, include variables that were not part of the international "core" questionnaire and were measured only in Czechia. These country specific variables allow Jana a more detailed and deeper analysis of work orientations.

She searches for other data on the web
Jana wants a complete picture of the available data, so she continues searching. She uses Google and employs various keywords such as statistics, surveys or questionnaires and combines them with her research topic (work orientation OR attitudes towards work OR labour force). Jana learns about a few interesting organisations which host datasets on work orientations such as the European Working Conditions Surveys (EWCS), one of the datasets maintained by Eurofond (Eurofond, n.d.).
Each empirical research project should start by searching for existing data resources relevant to the research topic. This is essential for projects based on secondary analysis (which reuse data produced by another research project), but also important for projects that intend to collect original data.
When you discover existing data, you can use them to your advantage in the following ways:
A disadvantage of using existing data may be that the research design is set and you must be satisfied with the exact wording of questionnaire items, population, sampling etc. Moreover, you can not influence the quality of data (Gregory, et al., 2018a). Therefore, the quality of the metadata must be as high as possible, so that you have sufficient information to decide whether or not you want to use the data.
Steps in data discovery
Data discovery is a process of several distinct - and cyclic - steps. You can structure your search according to the steps below (inspired by Gregory, et al., 2018b):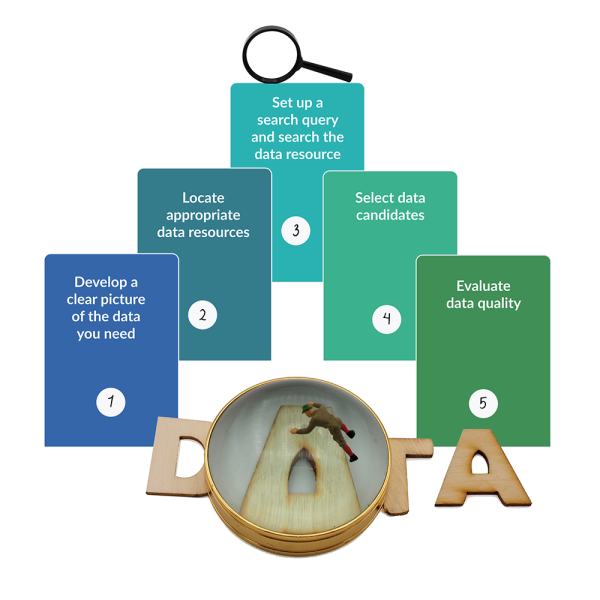 Expert tip
Prevent filter bubbles
Don't be satisfied with your preferred method of data discovery. In order to prevent operating in filter bubbles, you should invest enough time in using a mixture of strategies and in visiting multiple sources to find data. In this way you have a chance to locate data which are hard to find or to find data which do not belong to 'the usual suspects' (Gregory et.al., 2018a).